05 janvier 2007
Hi sweety,
As you know, my mother moved recently, so I also discovered this apartment for the first time yesterday. It's really a lovely place.
Firt: the huge living room where she's going to receive all her children, children in law, grand children every shabbat, roshashana, pessah, hannouka.... The big table where all those people will eat is not arrived yet but will be there soon.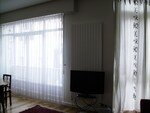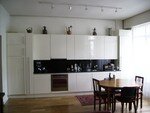 Then, there is a kind of room but not closed, where my mother put a bed (and where she sleeps). They are going to buy something to close it.
The other "real room" is my mother room with a nice desk where i am currently writing this article.
Finally the bathroom.
You can see all the pictures in the album called: my mother's place.
Bisous.
Maya.
Commentaires sur Arrival in my mother's place